I'm about to start editing.
But first, safety. Each time I flip the switch on that external hard drive, that precious home to the fruits of many hours' labor and the sum total of
Going Cardboard
's assets, there's a teeny chance something might go wrong. It's a very small chance, mind you, but editing's going to have me flipping that switch a lot more often. So, before I embark, time to back up the data.
It's already hundreds of gigabytes, and while hard drive space is not THAT expensive, it isn't peanuts. Luckily,
a friend
had a great recommendation for how to economically back up large amounts of data: this handy, dandy
SATA HD Docking Station
!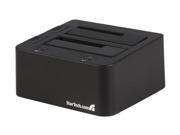 It slices, it dices, it lets you plug bare hard drives in and throw data right onto them.
I bought this thing quite a while ago, but last night it finally came out of the packaging, along with a bare 1 TB hard drive (wow, so heavy). It's not just plug and play and that's it, but the setup walkthrough in the manual was crystal clear, and in minutes I had a new hard drive up and was copying footage to it. I'm going back to newegg today to add a review, because it was a great user experience and they deserve it.