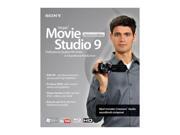 My copy of
SONY Vegas Movie Studio 9 Platinum
just arrived last night from Newegg! Now I can throw together that Unity Games montage. Keep an eye out, I'll do it as quickly as possible, I promise.
I'm also getting back to lining up more individual interviews, and planning out a formal shoot schedule. I've been advised to do whatever it takes to attend both major gatherings I need to attend (one in Ohio and of course Spiel, in Germany)
this year
so as to wrap up production by the end of October, and move into post-production. Is it possible, budget-wise? I'm not sure, but I'd really love to achieve that.
So I've started looking into grants, but that's quite tricky, and requires a formal application process, often with sample clips of your work. Well, I haven't got any of those, so it's a challenge. Further, I don't want to relinquish any artistic control, and this whole charitable foundation aspect, where you need to have a charitable sponsorship accept the money on your behalf for tax purposes...ugh. A few grand would really make things easier on my family, but I may have to do without.
I'm listening to last night's Double Down show over lunchtime, because I missed it last night. I spent an hour trying to put the kids to bed, and they turned it into a game of ping-pong where I was bounced back and forth between their rooms as they took turns getting out of bed. You meddling kids!